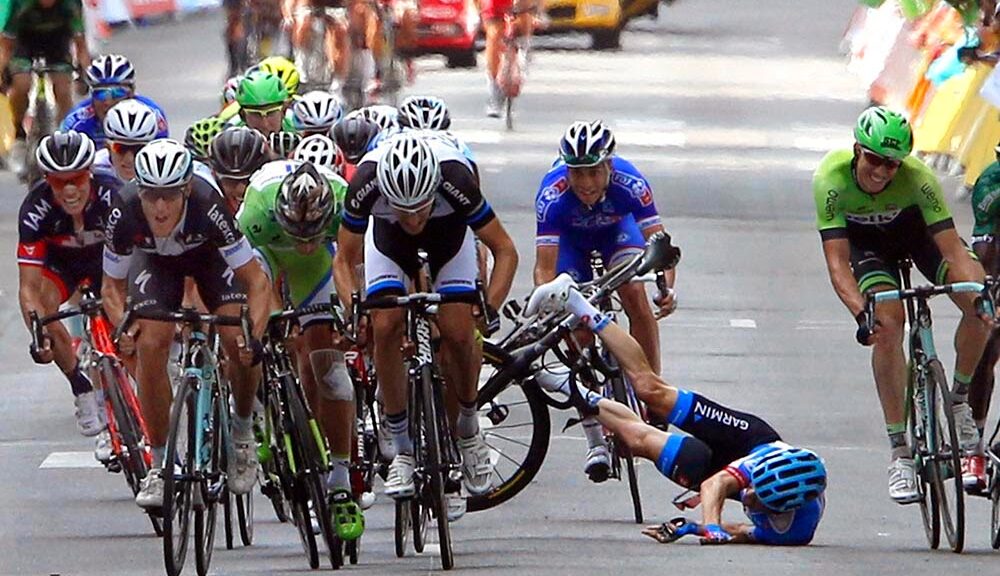 True Grit and the Tour de France
True Grit and the Tour de France
Andy Talansk off the bike in the stage 7 sprint finish
Every summer I have a fight with myself that I predictably lose. The ever-present doping scandels and scoundrels of professional cycling make me vow to stop watching. Then the Tour de France begins and I cave in like a house of cards.
Andrrew Talansky breathed a giant breath of life back into US hopes in European pro peloton when this promising young American stood on the top step of the podium last month as the winner of the Criterium du Dauphine. Winners of the Dauphine are always competitive at the Tour, and frequently gone on to win it. Andy had horrific crashes in stages 7 and 8 which forced him to abandon the race after stage 11.
It was pretty evident early in stage 11 that Andy was in rough shape. He fell off the back of the peloton and was losing time to the leaders at an alarming rate. He was in very real danger of being eliminated from the race for finishing more than 8% behind the stage winner. His earlier crashes had left with with massive amounts of road rash and severe back pain. At one point in stage 11 the pain was so bad that he had to get off the bike and sit on a guard rail for 4 minutes. At that point he had 40 miles left in the race. French TV cameras were hovering like vultures and everyone was certain that he would abandon. To my amazement he climbed back on the bike and finished the stage. Somehow, he found the inner strength to finish the stage and make the time cut.
Andy knew at that point that he hopes for any positive outcome in the race were completely blown. But he finished the stage–even though it was all alone out there and ended up more than 30 minutes behind the leaders and dead last. It was a clinic in courage, heart and perseverance. It reminded me of one of my favorite John Wayne movies as a kid: True Grit.
At the end of the race another cycling champion talked to the race commentator and used the opportunity to speak metaphorically to Andy Talansky (who was then still out there suffering alone on the road):
"My advice is: persistence wins all races." – Michael Rogers
Maybe Mick Rogers was speaking to Andy. Probably he was speaking to the rest of us as well.
Andy Talansky: Courage and True Grit