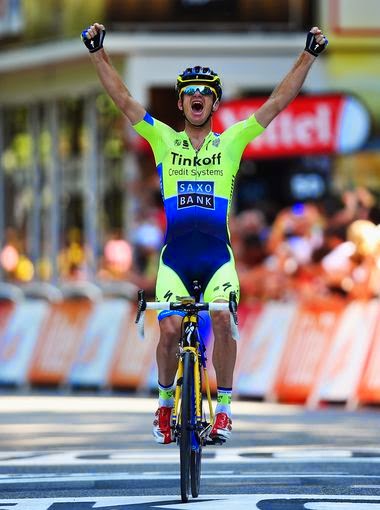 Persistence (Finally) Pays
Persistence (Finally) Pays
Bryn Lennon, Getty Images
Mick Rogers – 2014 TDF Stage 16
Carcassonne to Bagneres-de-Luchon
At the end of stage 11 in this year's Tour de France, Michael Rogers' advice to Andrew Talansky was "persistence wins all races."
Mick Rogers knows a thing or two about adversity. In 2007 he was thought of as a GC contender when he rode for T Mobile, but crashed out of the Tour with a broken collar bone. Immediately thereafter a protracted battle with mononucleosis made him barely able to ride his bike for more than a year. Late last year, with his form having returned, he tested positive for clenbuterol after winning a race in Japan. He was suspended by the UCI but steadfastly maintained his innocence. He was able to prove to the governing body that the positive test was the result of eating contaminated meat while competing in China, where it is commonly used in agriculture. He was exonerated this Spring and has gone on to win two stages at the Giro d'Italia.
Mick has as been persistently working for a stage win at the Tour de France for more than a decade and it has always eluded him. He is such a classy guy and someone that I've always loved to watch compete. Today it paid off in spades. Mick threw caution to the wind and rode flat out down a dangerous mountain to the finish against Tommy Voeckler and three others. In his post-race interview he said:
On that descent … I just said I've been in this position too many times not to win. [Either] I'm going to crash or I'm going to win.
He won. It was beautiful. I hope Andy Talansky was watching from his couch at home while he recovers.